You can always send special birthday wishes at the click of a button with Cherry Orchard Online card shop.
We have online greeting cards for that special occasion and every occasion including our popular Christmas card range.
Celebrating over 28 years, our portfolio of greetings cards has now grown to include an extensive range of card designs and gifts and if there is a card that you can't find here on the website, get in touch as we may be able to help.
OUR TOP online Greeting card CATEGORIES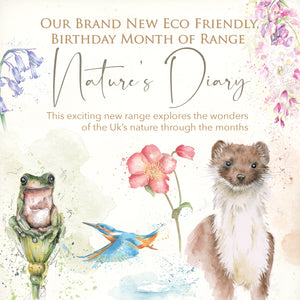 Eco Friendly Greeting Cards
Our brand new eco friendly range is the perfect way to send Birthday wishes to a friend. These unique birth month cards have beautiful hand painted pictures of the wonders and delights of UK nature.
Nature's Diary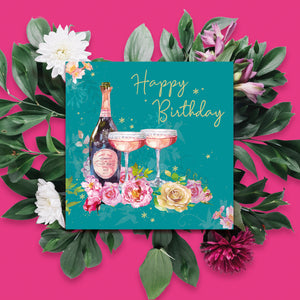 Open Birthday Cards
Take a look at our large collection of Open Birthday cards with a wide selection of styles. All our cards are finished with quality finishes and come with an envelope. Happy Birthday cards with lots of style!
Happy Birthday Cards
Notebook Gifts
Our thoughtful range of Notebook Gifts are the perfect way to say a huge heartfelt thank you, Happy Birthday or wrapped up for a special teacher! Now only £2.99!
Notebooks
If you need to send Birthday wishes in a rush don't worry as we can personally hand write with your message and send direct if needed. Just add your personal message at checkout.
First class delivery...When you order your cards from us, you can be sure that they will be lovingly picked, carefully packed and quickly dispatched ready for your special occasion.
Getting your greeting cards online is made easy with Cherry Orchard shop from Cherry Orchard Publishing.
What our customers have to say
I've made several purchases recently & have been very pleased with all of them. The cards of very pretty, delivery is quick & they treat you like a person not customer a customer. Very good experience each time!
I was very impressed when I first spotted these cards on Amazon app. I sent for my first order through Amazon and was thrilled with the quality of the cards when they arrived. I've since purchased more cards directly from Cherry Orchard as I just love good quality cards and I'll probably be getting some Christmas cards from there too.
What Excellent Cards! So pleased I found Cherry Orchard. There is a lovely selection, some unusual choices too and lovely quality when they arrived. Will shop here again.